I never thought about how difficult it is to name an inanimate object until I started writing patterns.
At first, I went the more or less literal route with, for example, Chunky Feather and Fan Scarf. Perfectly solid name, holding no surprises inside. As time went on, I felt the urge to be a bit more creative, especially when designs seemed to multiply like Tribbles (if you don't know what those are, your nerd card is hereby revoked.) Now, I'm at the point where I want to convey a mood or highlight some sort of design inspiration. That actually makes naming a more daunting task because, well, I say "potato", you hear "cheese".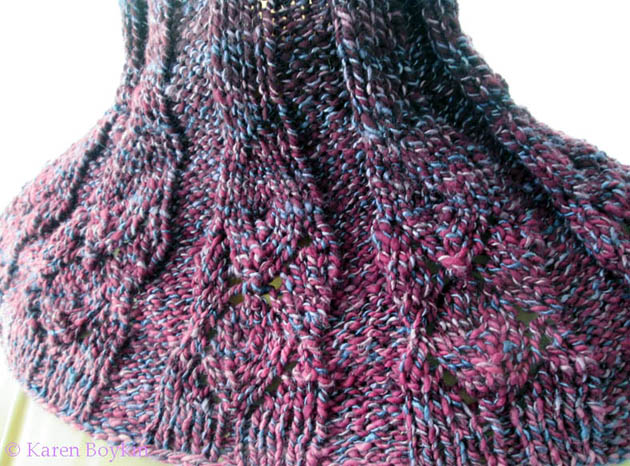 So wither cometh the Freddie Cowl? The name for my latest design was born in an English country manor; all tweedy and hunting weekend comfortable. The name that popped up was Winifred so I nicked it down to "Freddie".
All friendly and at ease, Freddie is a cinch to win the contest for its quick-knitting good looks. The diamond leaf inserts tucked in the ribbing I think add a special touch. The patterning has the intertwined look of cables but without any of the bulk. So go ahead! Pull out that special Aran or chunky weight yarn you bought 3 years ago (What? It was beautiful!), add size 10 US / 6.0 mm circulars or dpns, and it's done in a matter of hours.
I knit the sample in hand spun and dyed wool with a dusty blue silk wrapper, courtesy of the talented Lisa Mendez (artgirl60629@yahoo.com). I only intended it as a gift for my mom but I kept actual notes and thus Freddie was born.
You can buy the Freddie Cowl pattern from The Yarn Is My Metier store on Ravelry.
Materials:
250 yards / 228 meters of chunky weight yarn (12 stitches = 4"/10 cm)
Size 10 US /6.0 mm circular knitting needles or size to achieve gauge
Sized for shoulder circumferences:
43" / 109 cm
52" / 132 cm
60" / 152 cm
Skill level:
Easy (knit in the round, purl, make 1, knit together, pass slip stitch over, yarn over).
There are other designs on deck as you might expect, including a special request for mittens. What do you think? Should I be bold and return to my roots? Why not call a mitten, Mittens!