In Recovery? Not!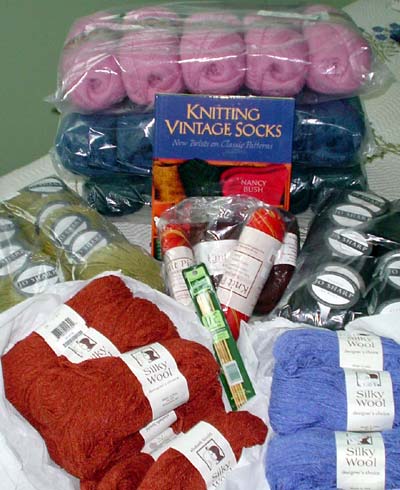 Conventional wisdom has it that the
first step to recovery
is admitting you have a problem. Uh-huh. Here's the deal, plainly stated:
I am a yarn addict.
To paraphrase Wikipedia, I admit that I am powerless over YARN -— that my spending habit has become unmanageable. Evidence, you say? Eyes, left. This is just what came in the mail today.
It started years ago with
Benetton sweaters
. Had to have 'em. In fact, I amassed a large trunk full of them and still own a few to this day. I progressed from there to suits - the more the better! This was during the corporate slave years. I ended up giving the still-serviceable suits to a women's shelter so the ladies would have something nice for interviews.
Does the acquisition obsession stop? Mais, non! Somewhere along the line, I fell in love with shoes and handbags. I dare not show you the armoire of handbags and the racks full of shoes.
Ebags

?
Zappos
? It's a love - hate thing. Hmmm. Let's see, next came Pottery Barn and Room and Board. Now those were some big ticket buying binges, let me tell you! Yes. I'm still on their respective mailing lists.
After careful analysis, it seems that yarn is but the latest in a lifetime of object lust. No. Wait one cotton-pickin' minute! Yarn isn't the latest. Yarn was the first, though long-forgotten, objet de desir.
I remember eagerly anticipating every visit to the big Woolworth's that used to be downtown. A reverent hush fell over me as I approached the area near the back of the store where the yarn, fabric and notions were enshrined. They had two floor-to-ceiling walls of yarn, which, to my 7 year old eyes looked like forever. My Mom would leave me there (with permission to pick out one skein) - safe in the knowledge that she could shop elsewhere in the store and know that I would not wander. I'd forgotten this pleasant memory. It was such a treat.
I guess the die was cast long ago.