Start and Finish
It took forever, but I seem to have found enough spare time between work and sleeping to actually finish the
mate for the bobble mitten
. The friend who requested these will be gifted with them tomorrow night - just in time for the chilly weather solidly hitting these parts.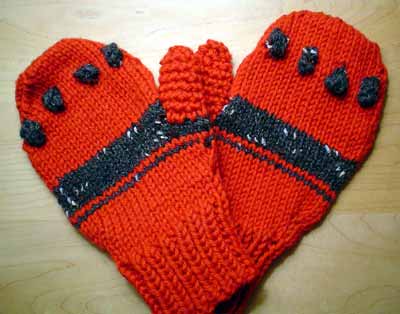 Now, what about the mate-less blue cable mitten? It has a new lease on life (temporarily) as a catnip filled toy that my felines simply adore. I say "temporarily" because they chewed through part of the cable and thumb within minutes of the yummy new toy hitting the kitchen floor. A minor scuffle ensued. Cats will be cats.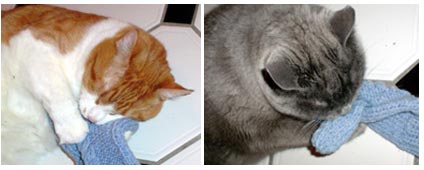 Meanwhile, back at the knitting ranch, I've started a scarf for my brother with some nice, soft
Paton's merino
in Evergreen using
Grumperina's "Sharfik" pattern
. Surprisingly (to me at least), this stuff knits up great! There will be a hat to match using a modified version of
Kate Gilbert's "Shining Star" hat pattern
.