Thank Goodness For The Quickies
OK. Mind out of the gutter right now! The "quickies" to which I refer are the fast and easy knitting projects - things that go from concept or pattern to real finished object after a few hours of hocus-pocus with the needles, hooks and yarn. They provide instant gratification for a woman such as myself, with a wandering project brain and serious "startitis".
A couple of days ago, I finished some scrumptious fall-hued fingerless mittens for my friend of the cold hands.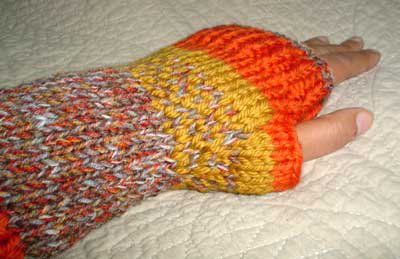 She dug them so much that she asked for some sort of neckwarmer to match. I had some of the yarns left, so by that evening I'd found a suitable basic pattern (
Katherine's Bow Knot Scarf
) and had it half-finished before heading off to bed.
Tonight, I put the finishing touches on (including a little free-form embroidery), despite being a a bit of pain from yesterday's spinal injection. I care a lot about my friends. Besides, it's really hard for me to
not
be making something. Drum roll, please: