Break Time Is Over
A couple of weeks have passed since my last update. Sorry about that but, like many of you, I was under the gun and overcommitted on handmade holiday items. Plus, silly me fell on a patch of ice whilst headed for the back door of my home. I banged my already damaged right arm enough to warrant a doctor visit and painkillers. Nerve compression be damned! I was going to finish what I started.
Remember back in August when I started (and subsequently re-knit) a sweater for my Mom? She was kind enough to give me some slack month after month until I promised, hell or high water, to have it for her for Christmas. And I did finish, but not until midnight on Christmas Eve. I cut it so close that I forgot to take a picture of it. She promises to model it for me sometime so I can prove it really does exist. Truthfully, I'm glad to be rid of it. Remind me to never, ever knit cotton tape or railroad yarn again!
I did manage to pump out a few other things, including a baby blanket which Nikita felt the need to inspect: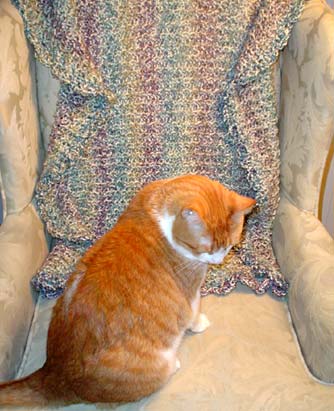 A scarf for an 8-month old made from stashed Rowan Cork (a matching hat is on the way):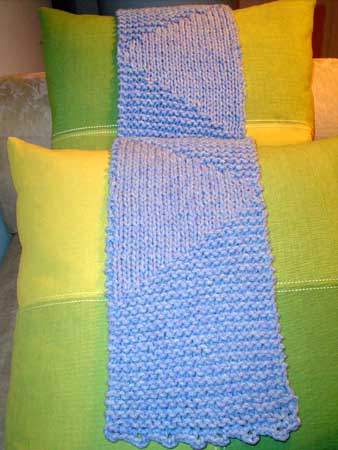 And last, but not least, a scarf for the 10-year-old daughter of a friend of mine. See, today is her birthday. Thanks, by the way, for the suggestions on what to do with the silk and alpaca yarn. I toyed with doing Misty Garden from
ScarfStyle
, but instead used a pattern from
Vogue Knitting Crocheted Scarves
as the basis for this one. Add a triangular border and pompom and it's good to gift for the party tonight: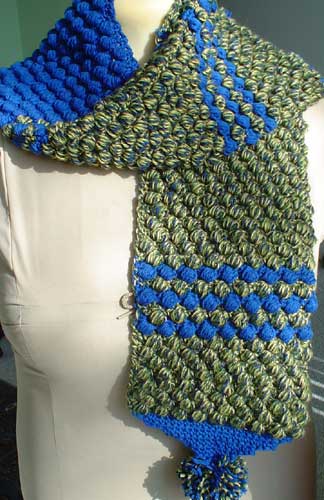 Also on the FO roster are a blue striped baby sweater and a double-stranded garter stitch mohair scarf.
On tap for next year? Beaded lace knitting and socks. Plus a new pattern or two. Wish me luck. I may be reaching out to you for advice on both. Until then, "Happy New Year!"