Ciao 2005, Bon Giorno 2006!
The end is near! And I've got one last FO for 2005. My version of a baby sweater and earflap cap for a 5-month old boy, who, according to his dad, is a rather large child. Remembering the disaster that befell my first baby gear (too small, made prior to birth), I confirmed with poppa that Sean should have a sweater suited for a 1-year old, at minimum. I found
this pattern
and modified it to have seed stitch instead of garter. I also added arm and side seam striping to break up the sea of blue merino: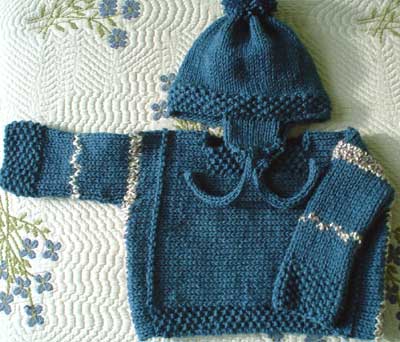 Now, on to new beginnings. I look into my crystal ball and consulted the tarot deck. They tell me that socks loom large in my future, so I decide to get a jump on 2006 by stocking up on some
inexpensive yarn
and tiny bamboo dpns. Et voila, the first sock is cast:
What's that I hear? The clacking of ebony needles on my first felting project! I finally dug the Naranja-ochre and Mustard
Malabrigo
out of stash-land (where it has resided since March) to make a small 2-color tote. It's only 1/3rd of the way done, so that, too, will land squarely in the 2006 camp. Promise there will be pictures upon completion.
Hasta la bye-bye '05.