Elizabethan Collar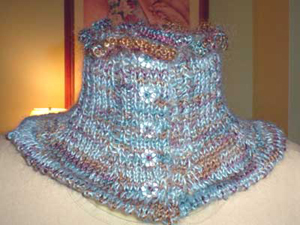 I came across this on
Kate Gilbert's site
and found it so enchanting that I purchased the pattern straight away.
Specs:
200 yards of double stranded Brooks Farm Primero Kid Mohair, 5 blue-tinged buttons from
The Button Drawer
, 1 day of knitting time.
Besides, I needed something quick and in a hurry because my grand plan for the WrapStyle Secret Santa gift just wasn't coming together. Not enough time and 5 feet of wide, boring ribbing. It'll get finished someday -- just not this day!
On the site enhancement front, I've pulled together a
Finished Item
gallery of sorts. Looking back through this year's pictures made me realize just how much stuff I've made, so, for the time being, I'll stop flogging myself over the nagging guilt of "startitis".
For a minute or two perhaps. There
are
other projects looming.