Just Keep Stitching
I'm taking a couple of days off from work. Days that I'd hope would be for rest and relaxation and, perhaps, a little knitting. A little knitting. Ha! I am so far behind on my gift-making that I should just spend the next 2 days cranking on my brother's
Sharfik
, a
Minnow Knits
baby sweater, and a second
Elizabeth
collar.
I did finish a child's hat and scarf set in pink lambswool and fuschia mohair: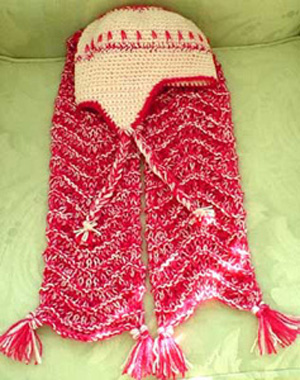 Meanwhile, more of the stuff I went wild ordering has arrived. Yes, there's yarn (Chamonix, Koigu), but I also got a box of books from Amazon as I try to prepare myself for the next wave of knitting: socks and lace. I'm particularly enamored of "
Folk Shawls: 25 Knitting Patterns and Tales from Around the World
" and "
Sensational Knitted Socks
." The pictures are beautiful, as are the stories and clear technique descriptions woven into the pages of each book - especially Folk Shawls. Makes me think I might be able to use that heathered laceweight alpaca to make some gossamer pretty after all...
Argh. What have I gotten myself into?