Desire
Thanks so very much for your compliments on the pink ruffled baby cardi. I saw the mom-to-be the very next day and asked whether she wanted booties or a bonnet. Her vote was for a matching bonnet. I'm using a pattern from "Last Minute Knitted Gifts" that is SUPPOSED to take 2-4 hours. Ha. Ha-ha!
While I work on completing it, I thought I'd pass along the yarn love that a couple of other enablers have so generously shared via their blogs. Drool cups at the ready? Here we go.
Our first entry in the "Oh-I-Want-That-athon" is from Melissa (aka Two Loops) at
Yarn All Over
. She is called "Heirloom:"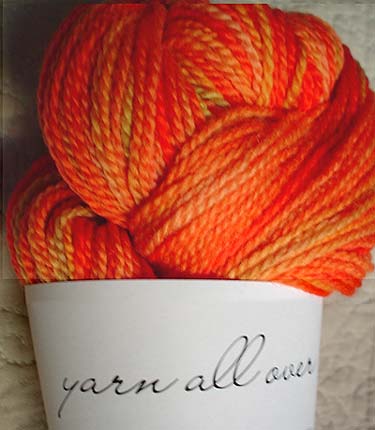 Next up, two colorways ("Wild Thing" - top and "Brown Eyed Girl" - bottom) of Teyani's "Sock Hop Yarn," soon to be available through
Crown Mountain Farms
. Desire, thy name is scrumptious barberpole yarn.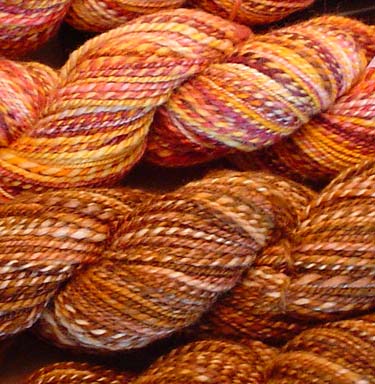 According to
Teyani's blog
, they're out at the moment but spinning as fast as they can. Queue up for it now, as it is like the proverbial hotcakes!
Next time, look for a decent progress photo of Simon kitty's Moderne Log Cabin blanket and, just maybe, a bonnie pink bonnet. I'll try to squeeze in a bit o' the knit between birthday stuff this weekend.