In The Pink, Baby
Now that I'm back at work (as opposed to the bed rest and subsequent vacation that was the month of April), I find I have much less time to knit. Not less desire, mind you, as demonstrated by the other items I started since the second week of May (MDK's Moderne Log Cabin blankie in miniature, Errant Ankles socks).
No surprise then when I was able to whip right through the ruffle, body and first sleeve of the pink baby sweater in no more than a week during the vacation. Conversely, it has taken nearly 3 weeks to finish the second sleeve and do a bit of finishing work (sleeve island anyone? Bueller?). Here she is though, a finally finished item: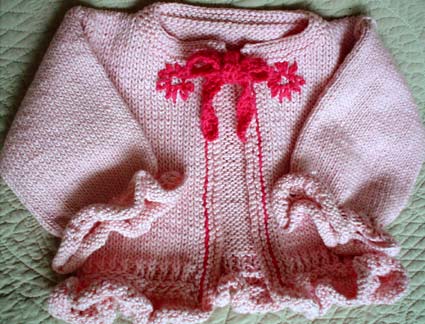 Specs and modifications
Pattern:
Reynolds Ruffled Baby Sweater
Yarn: 3 skeins of
TLC Cotton Plus
in Light Rose
Approximately 10 yards of
Catalina Pima Alpaca
in Fuschia
Needles: Addi Size 8 US for the body and 2 size 5 US circulars for the sleeves
I followed the pattern as written for the ruffle and body for the most part. Instead of knitting and binding off the fronts and back separately, then seaming the shoulders, I left the stitches live and grafted them, thereby avoiding potentially annoying seams for delicate baby skin.
I used another recently learned sock knitting technique of using two circulars to pick up stitches around the arm holes and knit the sleeves in the round. This varied from the pattern instructions significantly as I essentially knit them on directly from the top down, reverse engineering the ribbing and ruffle on the fly. It was fun!
Lastly, I decided against using a button or doing any beading since babies will put anything in their mouths. No choking hazards on my watch. I crocheted some ties on instead, using the same deep pink as the button band running stitch and sweet little flowers.
In general, I'm pleased with how it turned out. Now if I just had enough time (and hand strength) to make a matching deep pink onesie...