I've Got A Secret Pal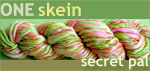 The One Skein Secret Pal Exchange represents a couple of firsts: one for them and one for me.
According to the
One Skein Secret Pal website
, this first-ever Exchange "is an event for knitters and crocheters of all ages who understand unbridled yarn lust — the joy of receiving a single new skein of fabulous yarn." Ha! Unbridgled yarn lust.
And moi? Believe it or not, I've never done a group knitalong of any sort. Kinda cool to send and receive gifts to / from people you don't yet know.
Here, now, for your reading pleasure are select questions posed to me by my Secret Pal:
1. Which yarn is most like your personality?
Hmmm. Rowan ASC because of the versatility. Merino blends because of the softness. Handspun because it's unique.
2. What is your favorite color yarn to knit/crochet with?
I don't have a favorite color. I tend to buy yarn in certain colorways until I've decided I have enough. Easier to ask what colors I don't usually buy. The answer would be bright yellow, navy blue, and tan or beige.
4. Do you tend to favor certain fibers when choosing yarns?
Yes. I love merino, tencel, alpaca and cotton blends.
7. How many and what projects have you made in the last year? B
aby clothes, sweaters, hats and scarves, mittens, socks (only 2 pair so far). Working on both immediate and long-term projects. Can't say how many in total.
8. Will you be knitting any gifts this year?
I knit primarily for others and very rarely for myself.
10. How much yarn do you have in your stash and how do you store it?
I have hundreds of skeins of all types. Most are stored in clear plastic bins. Some are in boxes, including hatboxes. Even more are inside rolling luggage. I'm a collector.
11. Do you have a yarn in your stash that you love so much you can never use it or part with it?
Yes. Jaeger Chamonix and Cashmina.
12. Do you knit less or differently in the summer?
No more or less, just more cotton blends or lighter-weight yarns. I will try to get a jump on Christmas gifts this year so I don't stress out so much.
14. And my last question is: What yarn HAVEN'T you worked with??? Looks like your stash is immense.
Cashmere, soy silk, llama. angora. These come to mind first, however, please don't let these limit you. My stash is quite large, but, like Jello, there's always room for more!