May Sock Yarn Acquisitions
I'm a sucker for yarn. No, this is not news. What is new for me is the preoccupation (obsession?) with sock yarn. I'm so hungry for it that anytime someone mentions the softness, colorful beauty and stitch definition of their latest find, I'm all over it!
These are the latest entrants to the socks-to-be line up: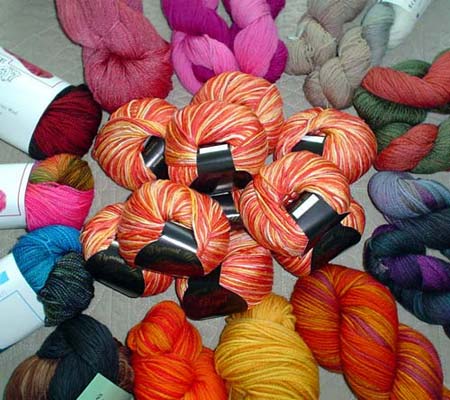 Top to bottom, clockwise, we have:
Lorna's Laces Shepard Sock
Desert Flower
Aslan
Gold Hill
Black Purl
Hill Country Sock Yarn
Autumn Leaves
Honey Butter
Ruby Red Grapefruit
Schaefer Yarns
Little Lola
Fleece Artist
Sea Storm
Jester
Mahogany
Mind's Eye
Strawberry
And in the center of this yarn buffet, we have
Plymouth Royal Bamboo
in the "Flame" colorway. This is my first time purchasing bamboo yarn and while it is not for socks, I thought I'd include it anyway. So very soft. And from a renewable resource for the green-minded among us.
Now, go! Wipe the drool off your chin while I finish knitting that baby sweater sleeve.