CeCe, Si!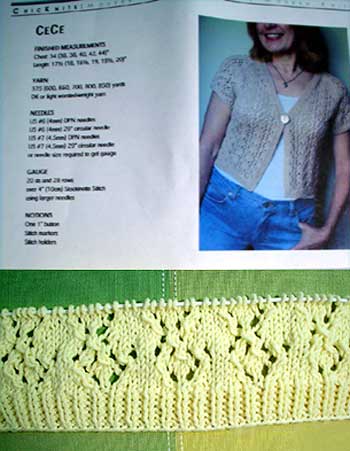 I have to admit I had a serious attack of the stupids when I first started
Bonne Marie's

"CeCe"
. I read the beginning of the lace pattern over and over, but it didn't click on how I was supposed to get past the first 2 rows.
I knew other, more successful, knitters had already made this pattern so I went, virtual hat in hand, to the designer for assistance. Instead of saying, "What are you. Goofy?", Bonne Marie graciously turned my questions into an opportunity to clarify the pattern. Very nice.
So nice in fact that this was the key to my being able to unlock the pattern in my knitting mind.
I have to say I heart this Filatura di Crosa "
Zara
" yarn very much, though it was not my first choice. I'd found some silky
Plymouth Royal Bamboo
in the "Flame" colorway and gotten (with difficulty) through the first 12 rows, making so many tinks and re-knits that I put the whole project aside for weeks. Too slippery. It has been frogged for another, yet unknown, Mom project.
It was Zara to the rescue - one of the forgotten purchases. This sweater is for my Mother and soft yellow is one of her favorite colors. Win <-> Win!