Come Join Us

If Cascade Fixation is your thing, then consider the
KAL
currently underway. Its quick, painless and an easy way toward the goal of FO, since the challenge calls for the knitter to use one skein for a pair of anklets. Now this is what I call progress on a lengthy list of WIPs.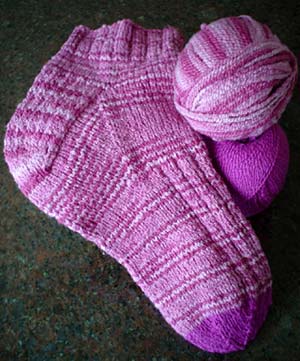 I cast on the appropriate number of stitches for my rather fluffy feet that was divisible by both 2
and
3. Why 2? Because I knit the body of the sock using 2 circulars and I want the number of stitches to be even. Why 3? Instead of the standard k1, p1 ribbing, I did a k2, p1 cuff and instep using Fixation Effects colorway #9674. I used a coordinating Fixation solid color #6178 for my (currently) favorite toe:
Knit odd rounds using a decreasing number of knit stitches and k2togs. Even rounds are knit without decreases. For instance, if you have 48 stitches to start, k6 then k2tog 6 times, then k5 and k2tog 6 times, etcetera, until you are left with 6 stitches on two needles. Then you just graft the toe and you're done!
Makes a nice, comfy round toe that is actually quite attractive.