Oh, No You Didn't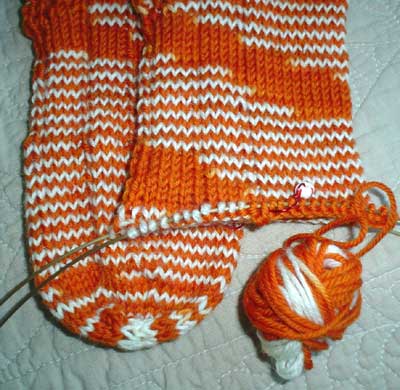 The yarn gods were not on my side. I was so close to finishing the second
Errant Ankles
sock; just a toe, dude, a toe! I suppose I got carried away with the zig-zag lace repeats on Sock One. I also failed to weigh the yarn and separate the hank into two equal skeins (where's that postal scale when you need it?). I foolishly prayed that this tiny ball of yarn would do the trick.
What could I do? Make sock one shorter then use the leftover yarn to complete the toe of Sock Two? Or use a solid color on both socks?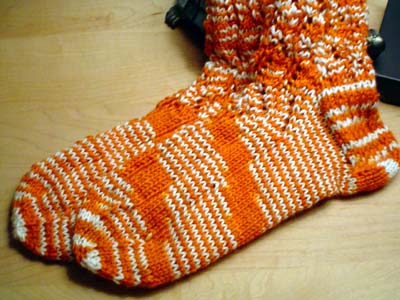 While neither seemed palatable as both involved opening up the nicely grafted bullseye of a toe, colorwise, option one made the most sense. Shorten the existing sock to a length that was still comfortable for the wearer. Later that evening, I knew I'd made the right choice.
(Updated)
I shortened Sock One by a half-inch so that it matched the second sock in length. Turns out I had enough yarn to finish a decent toe on Sock Two -- with 8 inches to spare.
I know the giftee likes them. Speaking of
JZ
, guess who's reclaimed her long-dormat knitting jones. More on that later...