One Sock Down
And one to go, though I did briefly consider trying to convince the recipient that wearing two different socks is all the rage among the kids. "Uh, Houston? That rocket did not launch."
Why would I even try? Cause I'm afraid I'm going to run out of
Hill Country
Hook 'Em Horns yarn before getting to the end of the sock. I'd initially planned to reduce the number of zig-zag repeats on the leg but silly me got carried away with the symmetry of 4 repeats instead of 3. I may need to purchase another hank. Grrr.
Anyhow, ain't she purdy?! I really like this sock and will knit Errant Ankles again once I get through the dozen other patterns I've collected.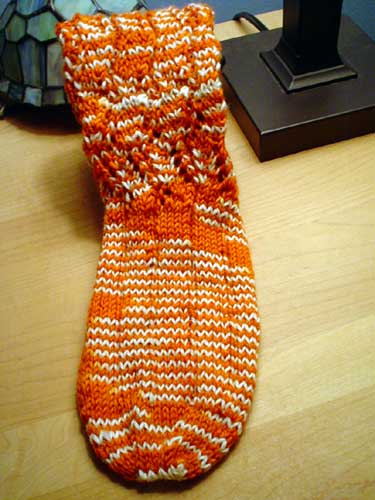 Meanwhile, I've started a little something for myself out of the Rowan Wool Cotton I scored during a
10-minute bargain blitz
last month. Should be quite pretty. Might even enter it in
Knitty's 2007 Calendar Contest
. To be determined. Once I get further along with it, I'll do a photo share. Right now, it's just 8 inches of
Grecian Plait
.
Just when you think I might be a tad unfocused, I go and
prove
it by starting
ChicKnits CeCe
for my Mom. Maybe this year, I'll finish her sweater by August instead of wrapping it up 4 months late as I did last year.