Sock In Progress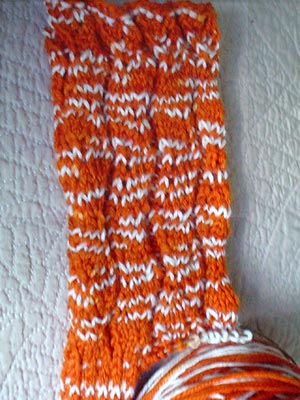 They say, "No pain, no gain," right? I know "they" are talking about exercise, but in this case I choose to apply it to knitting. I've put myself on a steady production schedule, so far set to end sometime in September. And the pain, you may ask? That darned right shoulder is spazzing out again so to keep up, I need to work through the discomfort (with the help of prescribed pharmaceuticals).
So with that said, may I present
Heartstrings' Errant Ankles
in progress (eyes, left).
The yarn is
Hill Country
in the "Hook 'Em Horns" colorway (Yep. These socks are for a University of Texas alum). The pattern is turning out to be rather easier than I expected, though if you look closely at the Heartstrings site it appears my lace isn't so lacey. Where did I go wrong?