Little Treasures Along the Way
The past week or so has been kinda trying. Sylvia is gone. Her feline partner in crime, Nikita, seems a bit lost, and I've been at "
sixes and sevens
" between her loss and my recurrent spinal problems.
I was only going to take a look, but when I saw two boys who so closely resembled my long-ago departed buddies Elvis and Lenny at the animal shelter, I just had to bring them home with me. Besides, one of them is named Elvis. Kismet, no?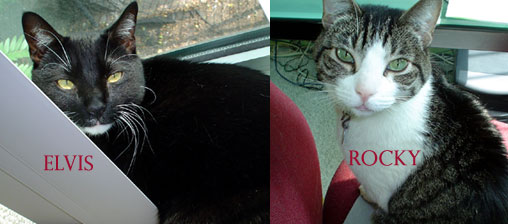 These 4 year olds friends came from the same home and are adjusting to my home fairly well. Can't say the same for Nikita just yet. These things take time - especially if your feline is feeling his position as "the baby" usurped.
Now, the important time component for me was Friday, 5:30 - 9 pm at
Loopy Yarns
. I went ostensibly to meet that clever, talented photographer and knitter,
Cara
, in Chicago this 98-degree weekend for a bit of a visit. It didn't hurt anything (except my credit card) that Loopy had a 20 - 40% sale on either. Despite protestations to the contrary, it was buy, buy, buy! Did someone see my self-control? Perhaps I left it on the bus...
Plymouth Yarns:
Baby Alpaca DK - 10 skeins in a peachy blush colorway (5046)
Baby Alpaca Brush - 1 lime and pale blue melange (4532) and 1 pale blue (1620). Destined to become a pair of mittens with a matching ascot.
Gedifra
Cotton Merino - I bought the store's remaining 7 skeins in Sky Blue (6209). Soft as
RYC Cashcotton
at a better price. Already picked out a summer tank for these babies from
Big Girl Knits
.
"Lumpy Bumpy" Yarn by Charlene of
Farmhouse Yarns
in Wine Rose which will be a perfect complement to the peachy blush of the baby alpaca DK. Methinks these loverlies will become a button-front cardigan with a lumpy-bumpy collar and cuffs.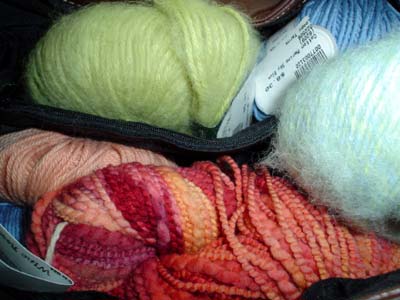 All inside my last treasure for the day: a new chocolate brown
Namaste
"Jetsetter" bag! Wonderful, spacious bag with pockets and zipper and needle slots galore. A stylish addition to my knitting bag collection - at a surprisingly reasonable $69. Fronting the no-calorie choco goodness is the hard-shell needle case, also from Namaste. Uber cute for keeping control of needles and stitches for those projects on the go!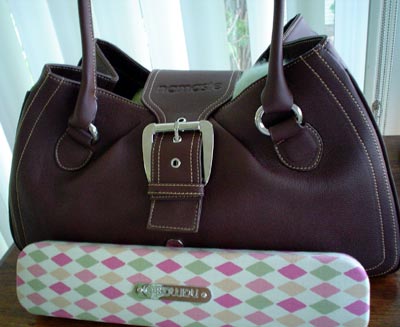 Ups, downs and sideways are part of life. I'm glad to have found these little treasures along the way to smooth out the trip.