"Sylvia's Mother Said..."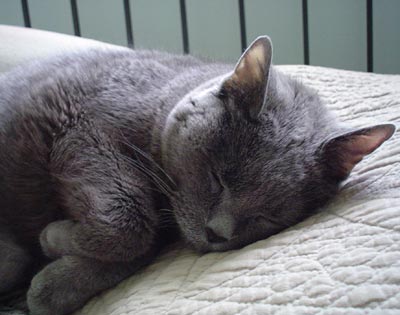 "Sylvia's packing. She's gonna be leaving today." -
Dr. Hook and The Medicine Show

The vet came to my home this evening. He had made all the necessary preparations for Sylvia's departure. Her slow, painful walk and, most recently, the periodic loss of control of her back legs forced me to make a decision I'd been selfishly avoiding.
After fourteen years and still with a bit of her characteristically haughty "piss and vinegar", my chatty sweet pea of a green-eyed Russian Blue is gone.
So long, Misses Kisses. Miss Bubbles. Madame Sylvia. My Girl.