Yes, It's A Poncho...
And it sure is a darn cute one! The 1-year old for whom I made it will, hopefully, enjoy it too.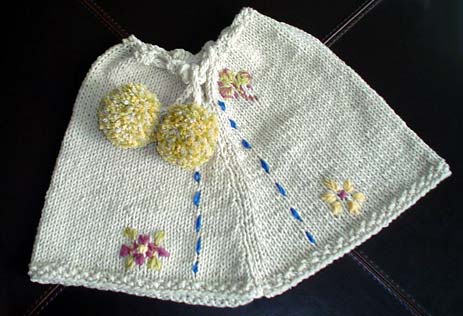 When Trinity's mom asked me to make the poncho for her daughter, I asked whether she wouldn't prefer a cardi or maybe a hoodie - something with sleeves. But mom stuck to her guns. It was to be a cream-colored poncho with flowers, pom-poms and fringe. As you can see, I took some artistic license, omitting the fringe as just too impractical. I could totally see bits of fringe getting caught in a car seat or being pulled out by curious little fingers.
Specs:
Bernat's
Baby Boucle Easy Poncho
(Free, registration required)
2 balls of Rowan ASC
A few yards of colorful ASC leftovers for the embellishments
Size 8 circs
I modified the pattern to use a 3-row seed stitch border along the bottom and around the neck. Plus, I thought that an I-cord drawstring would make the poncho easier to slip on, as well as provide a necessary location for the pom-poms I added.
In the meantime, I've completed about 25% of my mom's
CeCe
and started on a lovely felted bag for my One Skein Secret Pal - both of which are due to be delivered in August.
At least this flurry of knitting keeps my mind off of the unhappy bits, which will likely be the subject of another post.