The Countdown Begins
There is a first for everything.
I actually started and finished something without getting distracted by the lure of a) new yarn or b) another project. The only interruptions were work, sleep and Elvis, whom I have just discovered loves yarn.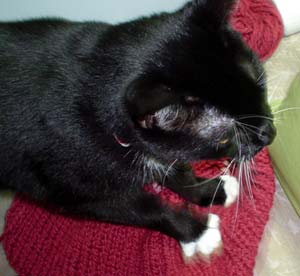 I'd been knitting all day Saturday, leaving only occasionally for water, food and bio breaks. Normally, Elvis and Rocky are ensconced in the guest room but it was their turn for a bit of a run around the place. I put down my raspberry shoulder shrug for 2 minutes and when I returned I found one tuxedo kitty furiously kneading the ball of alpaca, then the knitting itself. Ah, these digital moments.
So I shoo him away and resume knitting until midnight, finishing just a few moments ago. It's awfully pretty and may also be practical when all I need is a bit of a warm-up, unencumbered by sleeves.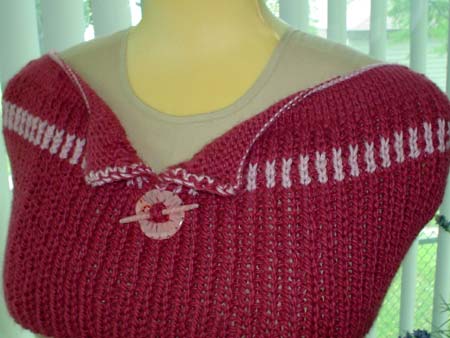 Specs:
2 hanks,
Catalina 100% Chunky Baby Alpaca
(Queen of the Prairie)
1 ball,
Debbie Bliss Cashmerino Aran
(603 - Dusty Rose)
Size 10.5 US circular needles
The pattern is a modification of that provided by Catalina Yarns. I knit 7 inches of ribbing before the split for the neck and added the yoke detail of bi-color knitting and paired k2tog / ssk decreases for some shoulder shaping. You may recognize the decorative closure as one of the
Moving Mud
designs.
Still, none of this explains the title of this post. I'm counting down the number of "must finish" items before I'll be out of commission for a bit. I'm having spinal surgery on 9/11 and I still have a baby sweater and camisole to finish. Wish me luck!