Clutch Cargo
Whew! What a zippy summer. Too much has happened to really recap, but let's give it a go month-by-month:
5. Joined
One Skein Secret Pal KAL
(May)
4. Participated in
World Wide KIP Day
(June)
3.
Sylvia departed
,
Rocky and Elvis came home
, (July)
2. Blew my budget at
Stitches Midwest
,
Debi knits me socks
(August)
1. My Secret Pal sends a pocket(book) full of goodies (August)
Being a Secret Pal was sort of like being a fairy god-mother. I had the opportunity to spoil someone silly once a month and that tickled me to no end. My someone was
Lisa
, a nurse from Rhode Island. Sweet woman with a big heart and a house full of people and pets, including the cutest floppy-eared bunny!
As I gave, so did I receive but I didn't know until this week who was behind my summer treats. My Secret Pal turned out to be a talented and very accomplished knitter from Colorado. Her name is
Diane
, dubbed "The Uberknitter" by her friends. Diane sent me a beautiful felted clutch with decorative little buttons: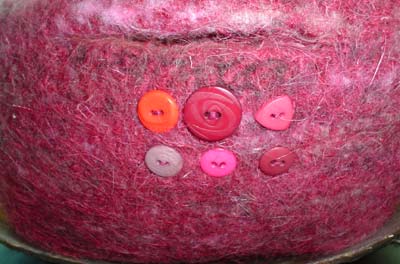 This clutch came with surprise cargo including a busy bee tape measure, folding snips and some of Diane's own stitch markers: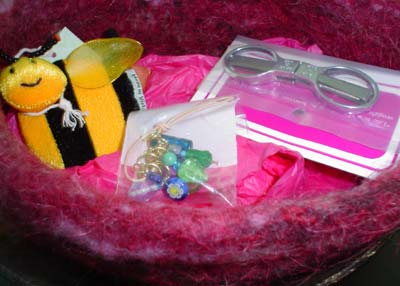 Gracias, and I do mean mucho, Diane! I got a kick out of the card that accompanied the gifts as well. I rilly hope the My Three Kitties become buddies, too.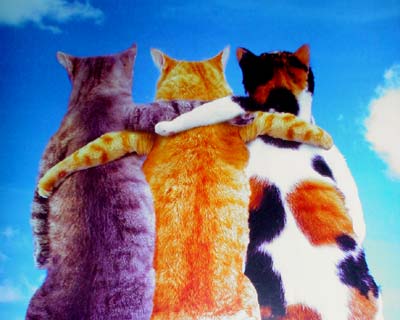 Happy Labor (or Labour) Day Weekend!