Cover Up
I finally got up the nerve to look at my incisions yesterday before my mother replaced the bandages. Thankfully, the 3-inch one on my neck did not live up to my Frankenstein fears. It will (for vanity's sake) be covered up for a while -- at least until it fades. And it is
Bonne Marie's
gift that makes the first dainty ascot possible.
See, Miss B. stopped by for a visit last weekend. Clever lass that she is, she came bearing gifts with a theme. There was the Guilty Pleasure (People Magazine, The Enquirer), the Mental Pleasure
(Anne Rice's "Blood and Gold
") and Pure Pleasure (
Lorna's Laces "Angel"
).
Feeling the need for completion, I tore through the Guilty Pleasures and went straight to the Lorna's Laces. Et voila! Ze ascot is born out of 100 yards of angora and lambswool sweetness.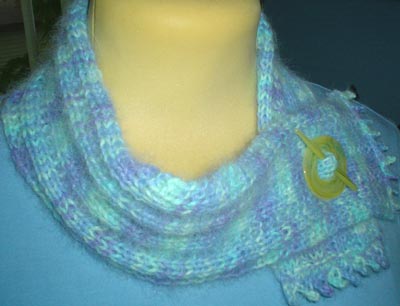 Specs:
2 50 yard skeins of Angel in the Georgetown colorway
Size 8 US needles
Pattern:
Cast on 20 stitches.
Row 1 (RS) K20
Row 2 (WS) P20
Row 3 Sl1, knitwise. K1, P2, *K2, P2* to end.
Row 4 Sl1, purlwise. P19.
Repeat rows 3 and 4 until piece measure 32",
(edited to add)
ending on WS row. Knit 2 more rows, then add edging of your choice, if desired. I did a 5-stitch picot as my last row, then picked up 18 stitches of the cast on edge to duplicate the picot on that side.