A Few of My Knitterly Things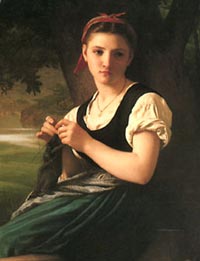 Grumperina
started it. It just took me a few days to think of 10 knitterly things you may not know about me. Any surprises?
1. I first picked up the needles in second grade when our teacher showed us - boys and girls alike - how to cast on.
2. I taught myself (mostly by trial and error) how to do anything else beyond the knit stitch and I'm happy to say that, through the fine example set by many of you, I'm still learning.
3. I keep a sketch book handy to record my knit design ideas.
4. I'm terrible at following patterns to the letter. I tinker with them constantly.
5. I conceptualize and visualize MUCH faster than I am able to knit. This frustrates me to no end.
6. I made (and was paid for) my first custom clothing at the age of 13. It was a dress and matching full-length cape for a rather statuesque friend of the family. She loved it so much that it was still among her things when she died in September, 2001.
7. I cannot do a figure-8 cast on nor short-row heel to save my life! I'm stuck in the top-down, heel flap lane of sock making.
8. While most of my knitting is for others (and gladly so), I'd really like to spend more of my knitting time on myself.
9. I am unable to keep my mind fixed on one project straight through to completion. Can't do it.
10. I am an annoying detail-oriented perfectionist in most all the other parts of my life. Oddly enough, this does not extend to knitting.