Whatever Mom Wants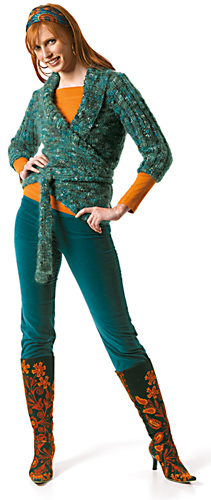 Another yarn and pattern catalog arrived in the mail (quelle surprise!) the other day. I've got to say I was shocked when my mother asked to see it. I mean she's not a stitcher or anything and she already thinks I have too much yarn stockpiled. She returned the catalog with a page dog-eared and said, "There's only one thing I like in here."
Kind of an oblique way of asking me to make the pretty wrap sweater for her, but of course I'm chomping at the bit to do it. The pattern is called Magda and it's from the Fall 2006 Berroco line. Although it calls for their "Memoirs" yarn, mom forbade me from buying it, instead revealing that she'd gone through my stash closet when I was in the hospital and found perfectly good fibers there that I should use instead.
First, I got over the shock of my stash privacy being invaded. Then there was the let-down of a yarn buying prohibition. What's a knitter and good daughter to do? Whatever mom wants, mom gets. At least she wasn't drooling over those boots.