Yarn for Magda
When I posted the picture of the sweater that tickled my mom's fancy, I didn't realize just how much comment would be generated by those boots, as well as the other accoutrement. Rest assured. Neither fancy boots nor stretchy turquoise pants will darken my door!
The pattern for Magda arrived since I last posted. Mom has also revealed which yarn in the stash box most closely matched what she'd like to see in the sweater. The winners are Milan Tricot "Spicy" in shade 04-326 (a tweedy turquoise wool blend), and
Jaggerspun Zephyr
silk wool blend in Aegean Blue. The Zephyr will be carried along to provide a subtle bit of halo and sheen to the finished object.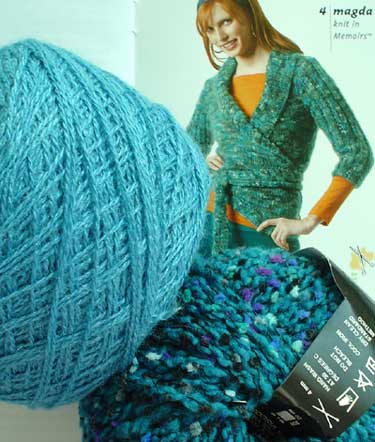 Thanks for asking,
Sarah
!