We Did It!
Or so sings "
Dora the Explorer
". Yes, I know this animated series is for the pre-school set but this little ditty was the first thing that popped into my mind once I snipped the last knot on the Eyelet Vest for 2-week old (and oh, so adorable) baby Olivia.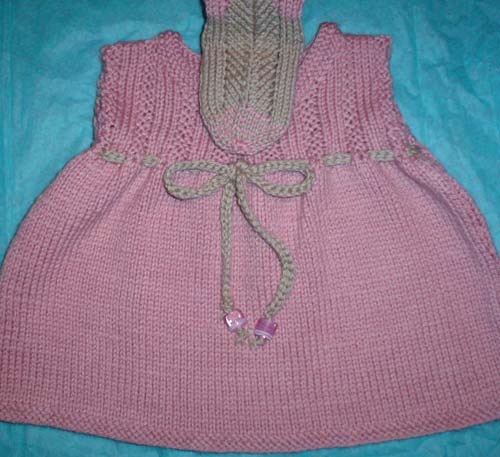 I made only slight modifications -- omissions really -- to the
Debbie Bliss pattern
. For starters, I knit, then removed the garter stitch armhole bands. They seemed so restrictive. I crocheted a tie and added two large pale purpley pink beads from
Beadworks
to the ends. I was going to use white ribbon but played the prerogative card at the last minute because I like the informality of the crochet. Besides, the wee knipper's mum can always replace the cording for a different look if she so desires.
Speaking of last-minute (and impossibly high hopes), I spent most of the day trying to make a pair of baby socks. "What?! They're baby socks ferkrissakes. They can't take that long," was my flawed logic. Six o'clock arrived and I'd only finished one. There will be a mate shortly, but I so wanted to show Olivia's mom how nicely the bi-color
Baby Broad Ripple socks
went with the vest. My favorite part is the fun pink and beige striped toe.
Anyway, Little Miss Adorable didn't seem to mind. She slept peacefully through the entire celebration.