Am I Blue?
Once again, need meets inventory. While going through three long forgotten bags of bounty in search of sock yarn, I rescued two beautiful Wedgwood blue hanks of
Catalina Baby Chunky Alpaca
. This could have been the end of a rather short story had I not received an email the other day from an ailing friend whose partner is struggling with caring for both my friend and her own aging father.
Since I truly believe everyone deserves to be taken care of every now and then, I decided to provide a bit of it in the form of a warm hug from a handmade scarf. "J" doesn't know it (nor does she read my blog, so the secret is safe), but she should soon be the recipient of Bobble Blue: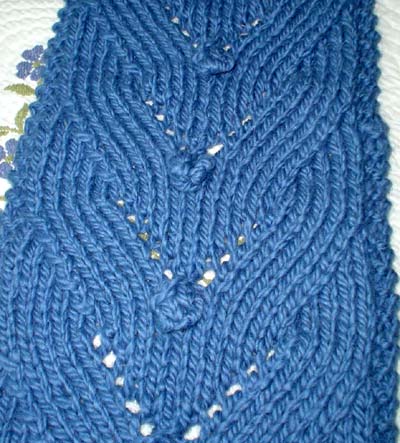 I was able to make quick work of this chunky yarn with US10 1/2's. There's no real pattern other than an arrow stitch topped by one small bobble. I'm thinking of writing it up and posting it on the sidebar if there's any interest.
With up to a foot of snow expected in the Chicago area, I'm sure this baby will come in handy right away.