Pieces & Parts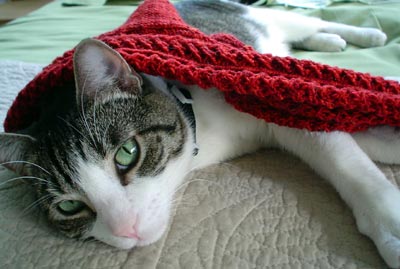 You, my friends, are so considerate (and so right) with your collective advice to give my body a brief break; that the knitting and the intended recipients would understand any delay. Listening is one of those skills best honed when practiced regularly.
I put the needles down Saturday night and settled into a deep, peaceful sleep. Twenty-four hours later, the Knitting Goddess guided my fingers to completion of one sock. One beautiful
Hedera
sock, which Rocky seemed keen on modeling. I tried to take it away from him, but he slapped out one paw to grab it back. Once the mate is done, I fully expect him to lay claim on it as well - just as he did with
the Cable Twist socks
. Think I've got myself a sock lover here!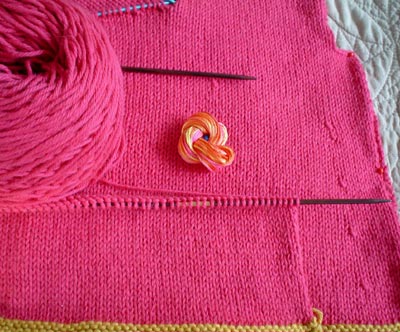 Now that Hedera One is done, I've turned the spotlight to the sweet baby kimono. The mom-to-be just informed me that Baby D is due to appear within the next 3 weeks. With 2+ of the 3 main pieces done, I'm confident in the finish deadline - that is unless I get stranded on sleeve island!
I'm using
Catalina Yarns Baby Pima blend
in two colorways: goldenrod and cotton candy. These generous 218 yard hanks knit up into a flat fabric with just the slightest halo from the 60% alpaca. The recommended needle size is US7, but I'm using my
Colonial rosewoods
in size US5 resulting in a slightly denser knit.
The deep pink and yellow-gold embroidery floss (in the center of the photo) should provide just the right finishing touch for the flowers. About those flowers, I have a question: would you embroider
just
the sleeves, leaving the body plain or do you think it would look better in an all over pattern as indicated by the
picture from Special Knits
? I await the verdict. Meanwhile, it's back to the stockinette!