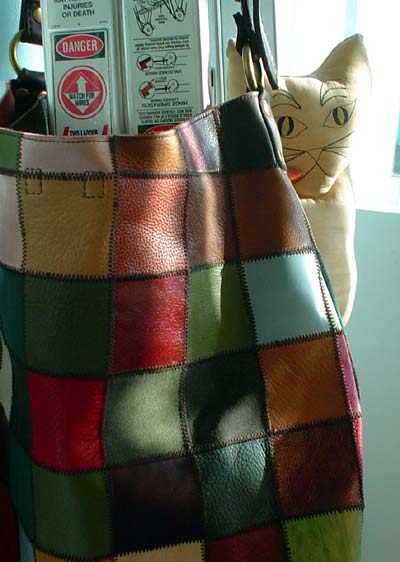 Except my ginormous new leather patchwork bag! "Lucky" arrived yesterday from Zappos in the hands of the UPS guy and I knew it was on as soon as I clawed open the box.
The rich colors of the suede and leather. The "welcome y'all" bucket shape. The wide shoulder strap with its sturdy O-ring and buckle. I have other bags (lots in fact), but nothing like the Lucky Large Patchwork carryall!
I don't usually watch network TV, but if I hadn't caught a few minutes of "Ugly Betty," I'd have never seen this bag. What shall it carry? Laptop. Yarn. A change of clothes, even. No matter at this point. I'm still in the first flush of leather bag love!
By the way, I know it may not seem like it but I still knit too. I'm just trying to finish what I started so I'll have something to share with you. Later.