I Love This Jacket!
Just like much of my current knitting inspiration, the
Tweed Three
pattern book was mentioned as an "oh, by the way" in an advert for Classic Elite Skye Tweed yarn. I was smitten immediately upon seeing this fetchingly fitted tweed jacket. The weskit-like detailing along the bottom. The leaf and bobble motif on the sleeves and the front of the jacket. And yes, the tweedy goodness of the spring green coloring.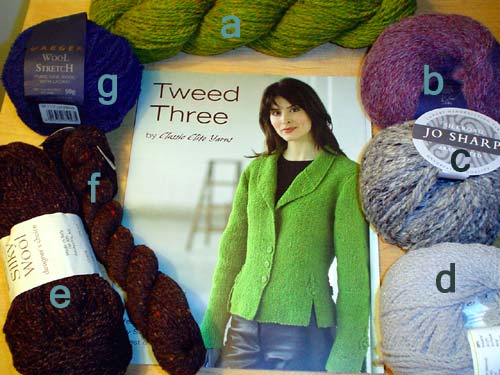 Here's the problem: while I do fancy the green, I was thinking that the jacket might also look smashing in some other colorway. Trouble is, I can't seem to pick one so I'm taking a poll. Should the Tweed Jacket be done in:
a. Tweedy Green Rowanspun
b. Lavender Jaeger Luxury Tweed
c. Grey Tweed Jo Sharp Silk Road
d. Dove grey Schachmayr Stretch Wool
e. Chocolate Elsbeth Lavold Silky Wool
f. Rumtopf Rowan 4-ply
g. Navy blue Jaeger Stretch Wool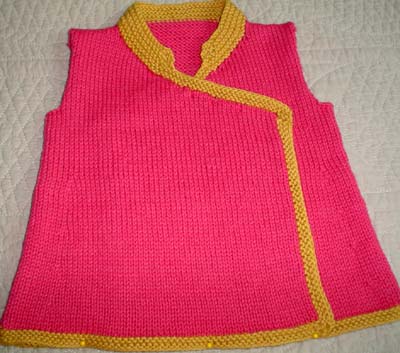 Meanwhile, I'm packing up my circular needles and headed for a hopefully brief stint on Sleeve Island. I'll try not to be gone too long because, by my calculations, Baby D is due any time now.
Boy, this kimono is really taking shape. I don't think it'll need much blocking either. A couple of sleeves, a few flowers along the border and she is done.
Let's pray for a fair wind and swift needles!