Model Behavior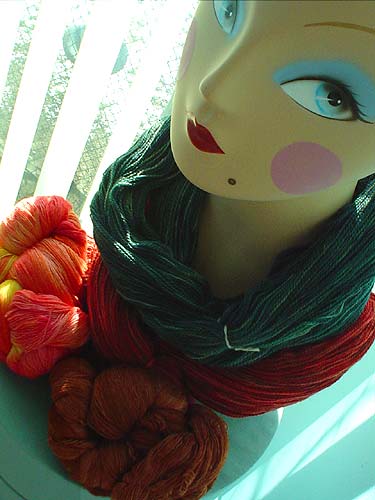 And now, coming down the runway, we have Mimi! Our newest model is sporting some intriguing fibers in the latest sensational seasonal colors.
From
Fearless Fibers
, we're showing Deepest Forest atop Brick House; both fingering weight fibers in saucy superwash merino wool at an impressive 550 yards in length. Placed like tender baubles at Mimi's shoulders is the luscious
Handpainted Yarn
pure merino laceweight in subtle Cognac and a bright fuchsia - orange - yellow blend called Floral.
And what of Mimi? She arrived last night at my door from her
former home
in New York. When she's not working, Mimi likes to take a breather atop the armoire where she can wear my hats and look down upon her new domain (and the cats) with her big blue eyes peeking out from underneath the brim. That's my Mimi. Always model behavior.