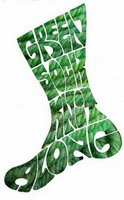 This is my kind of knit-along.
No sign-up sheet + No deadlines + No specific pattern = No pressure. It's the Green Sock Knit Along, oh-so-casually cobbled together by Cynic the Lamb over at Knotty Bits.
I was so inspired Thursday night that I did a little stash diving and came up with Socks That Rock Heavyweight in the 'Falcon's Eye' colorway. The pattern for my first Green Socks is an adaptation of Katherine Matthews 'Ribble Socks' from the book, "Socks, Socks, Socks."
Despite appearing to be nearly solid, this yarn actually knits up with a greater than expected amount of variegation in the green and cream. Though this turned out to be more of a striped effect, I still think the choice to do a small cable twist texture was the right one. What do you think?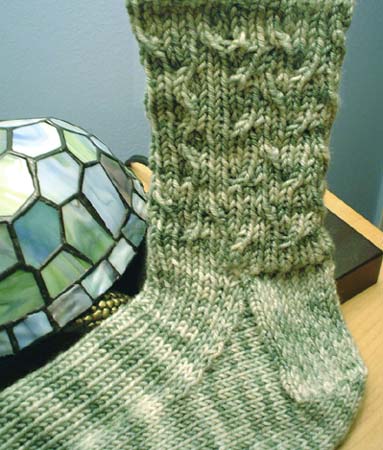 The next green socks from stashland will be crafted from a couple of skeins of 'Fern' Louet Gems, marinating in their original shipment package since early 2006.
By the way, remember the tweed jacket I was so taken with? I swatched my top picks and determined that the green Rowanspun resulted in the best fabric for this project. Although I'm flush with the stuff, I just couldn't get Classic Elite Skye Tweed in the 'Rosey Glow' colorway off of my mind, so I decided to go with it. Naturally, The Button Drawer had the perfect deep pink buttons with scribbly black accents.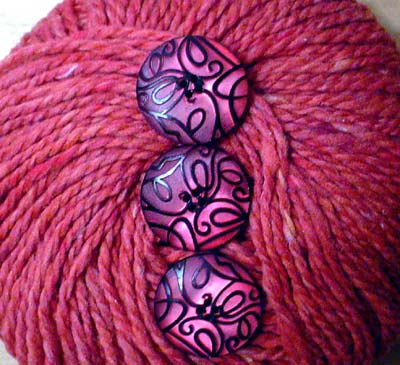 I'll get going on this one in due time. Right now, I've a couple of socks crying out for mates, a funky new jacket design I'm trying to map out and some knitting software begging for a demo. All part of the plan to enable the muse in 2007.