Alert The Media!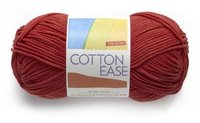 For all of you Cotton-Ease afficionados (and for those who are NOT on a yarn diet), Lion Brand just announced the return of
your favorite yarn
!
It's cheaper than some of the high-end substitutes (Rowan, for instance) and more substantial than a similar TLC cotton / poly blend. There are some mighty fine new colors, too.
Be the arbiter of your own yarn-buying conscience. My enabling work here is done.
(And no. I don't work for Lion Brand.)
Labels: yarn