The Last Hurrah
What you see before you is my last yarn purchase of 2006. It also happens to be the first pure cashmere I've ever owned.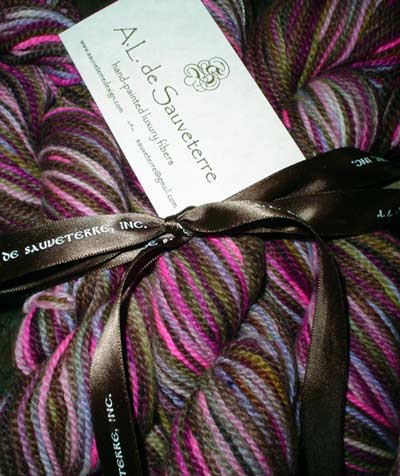 Sauveterre Luxury Fibers

Italian cashmere, hand-painted in the "Briar Rose" colorway. Three 200-yard skeins of sportweight delight. No designated object as yet, but I'm open to ideas.
I made the decision in December to treat myself to some truly luxurious fiber before my self-imposed yarn buying ban kicked in. I had one thought as I untied the satin ribbon and brown tissue paper that held my treasure: what a softly wonderful way to go!
By the way, the update on the
content harvesting issue
? It looks like the link I brought to their attention now redirects to a random selection of pR0n, so I think I'll just let sleeping dogs lie.
Labels: cashmere