"But what about keeping your ears warm," you may ask? Well Alison (aka Brainy Lady) resurrected a Knitty pattern from 2003 that's perfect for us pigtail and ponytail wearing lasses and lads. I liked Alison's adaptation of omitting the ties and adding a button on the side so much that I put the stockinette sock aside (momentarily) and cast on with my new Dream In Color yarn.
It's not quite done, though. I need an opinion on the button I should use as the finishing touch. You've helped me out before and I trust your collective advice. Shall I go with the deep reds (A-B), more blue toned (C-D) or completely different with the green (E)?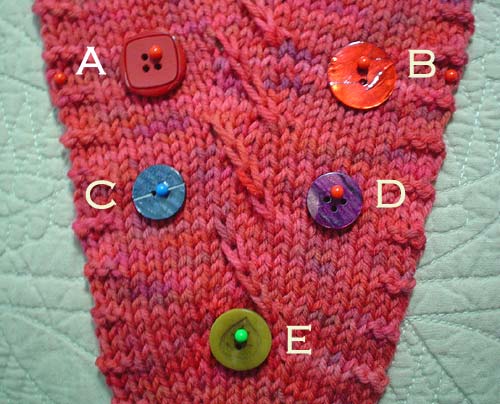 I'm leaning toward all of them and that is the problem. Opine away. Let's see if there's consensus.