"

Lullaby and goodnight.




Go to sleep my little baby;




When you wake,




you'll have cake,




and all the pretty little horses

. "
When I was a little girl, I used to think about horses quite a lot. I drew them. I sought out toy ones and stuffed ones. I even dreamed I was a golden palomino who would run, play and fly. I'm sure Freud would have a field day with all the pretty little horses.
Nowadays my distraction of choice is yarn and the pretty things I came make from it. While cruising my RSS hangouts, I came across something so wonderfully textured and visually captivating that had to start one myself. It is the Chevron Scarf from Last Minute Knitted Gifts – a book I had but a pattern I'd ignored. At first I resisted, knowing full well that I already had two socks in progress along with a sweater and tweedy jacket. Once I clicked through Ashley's site to the Flickr group and saw the other Chevrons in the works, my resolve melted into a colorful puddle of goo.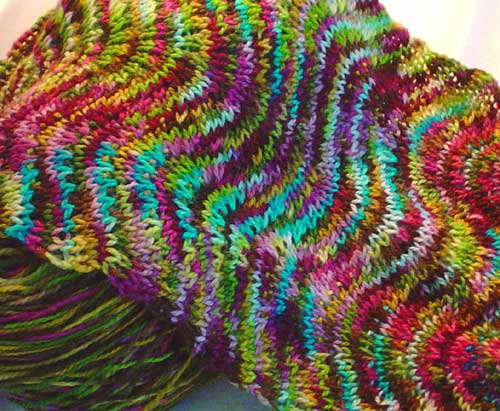 I spent Thursday night clawing through stash to find complementary sock-weight yarns and woke Friday morning to cast on with Scout's "Harlot's Mums" and Dani's "Dragonfly". My first thought was to pair a handpaint with a nearly solid but I thought, "Ah. That's so safe." Since the pattern called for two painted yarns, I dug deeper to find color similarities (purples, greens) and tonal differences (yellows, blues) that would work together. It's not a pat little pattern that's emerging but I like the undulating colors nonetheless.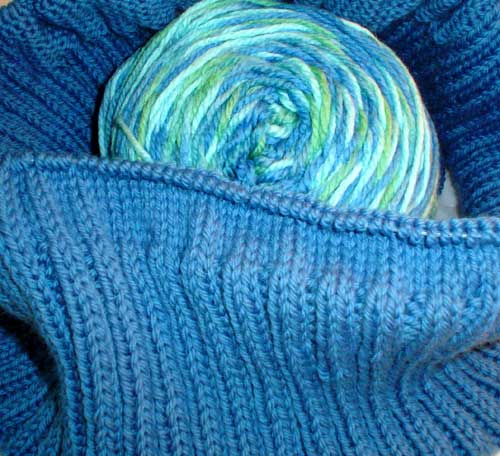 In the past week, I finally ripped out the swatch I did for ChicKnits Ribby Pulli, and cast on 216 stitches to get the short sleeve version underway. The original plan was to do long sleeves but by the time I'm done, we'll be into warmer weather. Hey, at least I'm honest about it. At this point, the sweater is mostly ribbing but it's starting to take shape.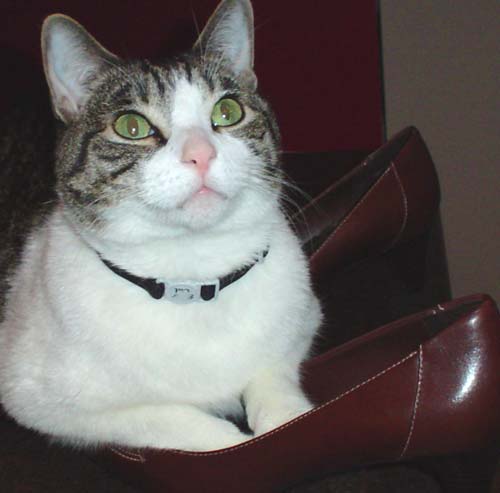 Finally, I thought I'd share my latest shoe purchase with you. As you can see, Rocky beat me to the punch by trying them on for size as soon as I took them out of the box.
Share and share alike, I 'spose.