Finally, I'm Well-coiffed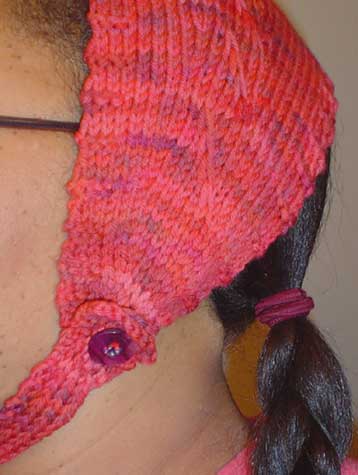 A little
Lipstick Lava
and a pair of size 7's made for quick work of this version of Knitty's
Shocking Pink Coif
featuring
Brainy Lady's
button adaptation. I decided to add a touch as well, with a left twist repeated along the five middle stitches.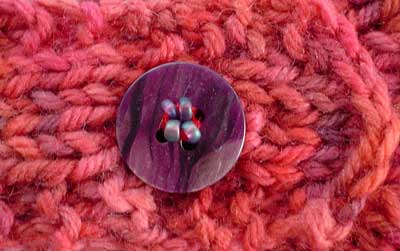 There was, indeed
consensus on the button
, with the marled purple the winner by a country mile. Special shout-out to one of
the Rainey Sisters
for the inspired suggestion to top the button with beads. I choose purple iridescent ones and sewed them on with pinkish-red thread, which you can see through the closure.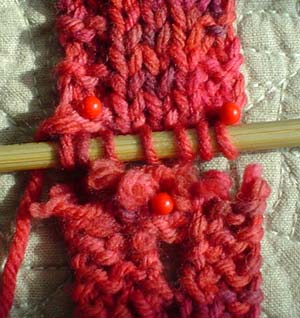 I did make a sizing mistake on this. A mistake which presented a learning opportunity: my first scissored knitting surgery! Although I measured from ear to ear to determine the length of the chin strap, I failed to take into account that the wool would s-t-r-e-t-c-h. I ended up with 2 inches too much.
Since I'd started the piece by knitting the strap, it was frog or cut knit. I chose the latter, but not before inserting a dpn above the cut point to hold the soon-to-be live stitches. A decisive snip, a bit of picking and knitting a new buttonhole, and the coif was in business.