If At First You Don't Succeed, Punt!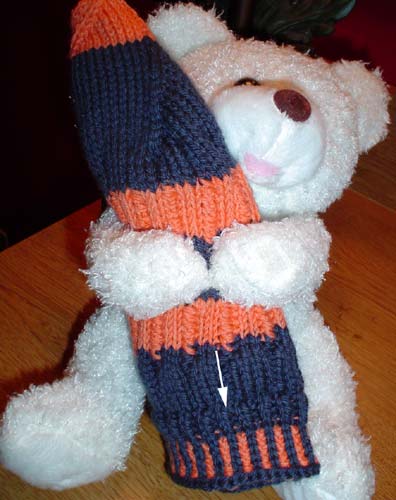 My brother came by yesterday. It was the perfect opportunity for a test run of his
Chicago Bears hat.
At first, I was hopeful that it would fit. He stretched it over his not insignificant head (he's 6'3"), but it fell short of his ears - more like a Muslim
kufi
than a full "cover-yer-head-it's-freakin'-cold" knit cap. I was momentarily crestfallen but undaunted, for I had a plan. I reached up to the bottom of the hat with my thumb and forefinger to get an idea of the amount of ribbing I'd need to reach mid-earlobe. I asked him to give me a day and I'd make it right.
The white arrow in the picture indicates where the original hat ended. I needed an extra 1.5 or so inches on that puppy, so I picked up all the edge stitches and did a K1, P1 rib. Initially, I knit the extension ribbing completely in navy, then pulled it out part way because it just read blah to me. Introducing the orange as the purl stitch made it more of a proper banding with just the right pop of contrast to make it feel complete. I bound off loosely with the navy yarn, gave it a quick bath, then blocked it overnight, sure that K (yes, my brother and I have names that begin with the same letter) would like it.
Please understand that my brother is a rather taciturn fellow, not given to anything effusive. I had a tough time gauging his reaction to my effort. All he would say was, "I like it OK. It's fine."
Thanks, K. You shouldn't have.
Labels: hats