Smells Like Team Spirit
January, 1986.
It had been years since Mom had a television in the house. She was a reading specialist who did not believe in the curative, babysitting power of The Box. We were forced into growing our brains the old-fashioned way: reading, listening to music, making things. But this year, something was different. You see, the Chicago Bears were in the Superbowl (or Superb owl as my spell checker would have it). She bought and she watched and I learned that my mother loves her some football!
This (along with some serious celebrating on Division Street) is my memory of that day.
February, 2007.
She still has that same television and it will be tuned to Miami and the Bears triumphant return to the big game. The love of this hardscrabble Midwestern team is something she and my older brother have in common. Whenever he takes me to physical therapy, I make note of the team caps he has lined up along that little shelf in the back seat of his car. Brother has become a super-fan too.
Inspired by
The Player
, I created my own version for my brother since it appears he is not too keen on other hats I've made in the past. I call this "When Lorna Met Debbie," since the only pure orange I had left in stash was Lorna's Laces Shepard Sock in the "carrot" colorway. The navy wool is Debbie Bliss Cashmerino Aran, left over from these
hat and mitts
.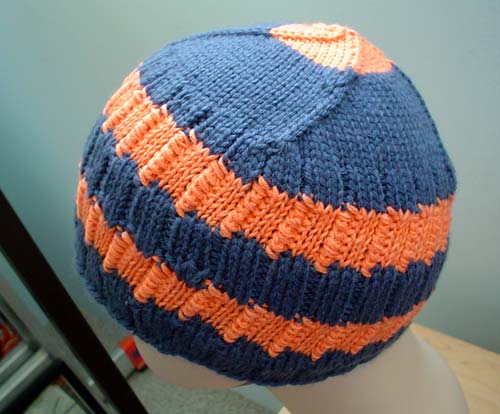 Modifications:
I used two size 5 US circulars with the fingering weight Shepard Sock the only yarn held double.

Since I used smaller needles and essentially thinner yarn, I cast on 104 stitches instead of the 76 stitches called for in Bonne Marie's pattern.
I used much the same navy-orange striping sequence, but omitted one round of the orange.
To give the orange rounds a bit of added visual interest, I created a right-leaning vertical ridge where the purl stitch would have fallen in the K3, P1 sequence. Here's how I did it:


K1, then knit next two stitches in the front and back of the loop, making 6 stitches where there were 4. Place the last stitch you made back onto the left needle and K2tog as normal. Lift the stitch that precedes the K2tog over the decrease you just made. You should have 4 stitches in the sequence once again.

Sounds fiddly, but it goes really quickly (if you're not dealing with skinny, doubled yarn like I was).

Since I increased the number of cast on stitches, I had to accommodate that in the top decreases while still maintaining the 4-point star patterning on top. I ended up doing 24 stitches between K2tog decreases instead of the 15 stitch intervals in the pattern. Here's a view of the top detail: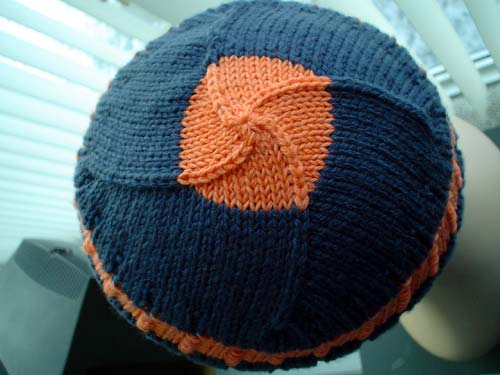 All in all, a success I think. Hope my brother feels the same way.
It may be warm in Miami but baby, it's
cold
outside in Chicago. Since it's gotten so very chilly in these parts of late, I think I'll leave you with a shot of the kitty boys cuddled up in my office chair. Stay warm, y'all!