The Thrill of Discovery
Today began as any other: feed the boys, put on a pot of coffee, fix some maple and brown sugar oatmeal, pour some juice to gulp down the morning meds. I had no expectation that I would find something delightfully soft, colorful and home grown.
Despite instructions to the contrary, I took a walk along the patchy snow-littered streets. Alone and unaided by steadying hands, I made my way to a brand new yarn store whose existence I'd just learned of this morning. It turns out that I am acquainted with the woman who owns
this sweet shop
mere minutes away from my home. Nice corner space, tastefully decorated with a selection of the usual high-end suspects: Noro, Debbie Bliss, Claudia Handpaint, Blue Heron.
What pleased me the most was the unexpected handpainted yarn from a Chicago-area company called
Dream In Color
. I left the store with 3 skeins of their yarn: 2 100% Australian merino worsted weight skeins of Lipstick Lava (# 270) and 1 very generous skein of merino sock yarn in the Wisterious (#240) colorway.
I couldn't wait to get my needles into it. As soon as I got home, I got my swatch on with the worsted (yes, I know my cable is crossed the wrong way, but I don't care):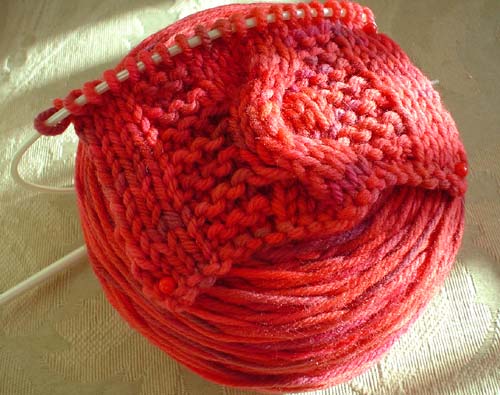 Subtle color blending of the reds, orange, deep pink and the occasional dot of purple. Nice twist with no splitting of the yarn. Good stitch definition. Big bonus? I found none of the splotching, pooling or striping that can sometimes be problematic with handpainted yarn. This is bad because I need more yarn like...well, you know.
My recommendation? Get your hands on some at your LYS. You won't regret it.