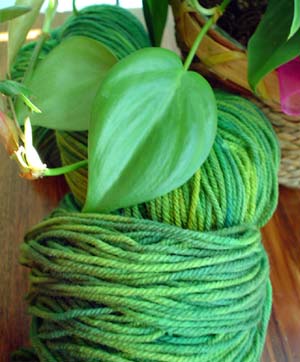 A light exists in spring
Not present on the year
At any other period
When March is scarcely here.
A color stands abroad
On solitary hills
That silence cannot overtake,
But human nature feels.
It waits upon the lawn;
It shows the furthest tree
Upon the furthest slope we know;
It almost speaks to me.
(Excerpt from "85" by Emily Dickinson)
I'm trying to be so very good and faithful to the other projects that, at this point, seem to be malingering on the WIP pile. No one to blame save myself of course. There's no denying it though. With the temperature rising and storm season brewing and the grass hinting at its former glory, I most definitely need to knit something green.
I'm thinking it may be time to revisit Mia (PDF) , knit up this time in Dream In Color's "Happy Forest". It would be the perfect complement to my new green and brown silk chiffon dress with the empire waist and tiny green bugle beads.
Ah, Spring!