Bathed, Blocked and Ready to Go
I
t took longer than expected, but I finished the mini-messenger bag in time for delivery to its 11-year-old recipient later today. I kind of blew past the actual birthday by a few days, though I suspect she'll forgive me.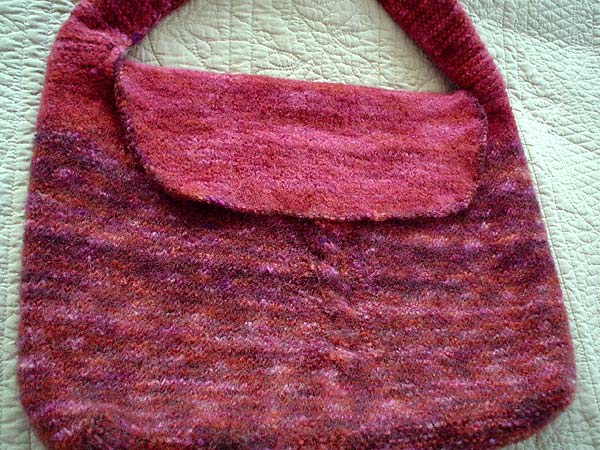 Specs:
(2) 138 yard skeins of
Manos del Uruguay
in 'Agate'
(1.5) 135 yard skeins of
Malabrigo
bulky handspun in 'Pagoda' (discontinued color)
Size 10 US circular needles for the body of the bag
Size 8 US dpns for the strap
4 stitch markers
2 jumbo nylon snaps as closures
The pattern (my own) begins by casting on 60 stitches for the rectangular base, knitting for 40 rows, then picking up stitches along all sides of the piece. I knit in the round for 4 inches then added a thick cable set off by purl stitches up the center front of the bag. I placed stitch markers at each of the corners so that the decrease rounds near the top would align with the 3" sides. This also left a convenient way to ensure consistency in the number of stitches, as well as placement of those stitches once the body of the bag was complete.
Pre-felting measurements: 18" wide by 20" tall with a 36" strap
Post-felting measurements: 16" wide by 13" tall with a 32" strap
Other notes:
Although the cable is not very distinctly apparent, there is a bit of texture to the bag which I like. I originally intended to do buttons and loops to hold the flap closed. I sewed on clear jumbo snaps instead so the look of the front is uninterrupted. Lastly, blocking was made so very easy with the help of a box roughly desired size of the finished product. I covered the box with a plastic bag, placed it inside the wet felt, pinned everything into shape and let it dry overnight.
Now, to finish a sock before I begin the
next birthday gift
...