The Gift Train Keeps On Rolling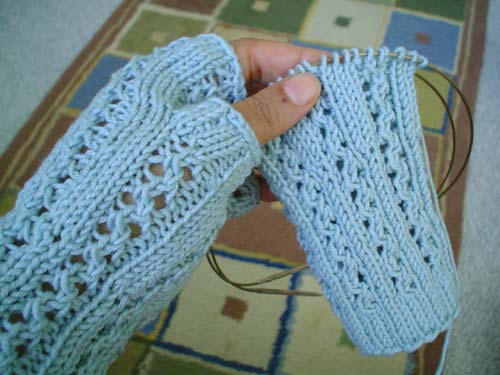 T
he work-in-progress spot on my knitting settee has begun to function more like a LIFO accounting system: last in, first out!
After finishing the
last birthday gift
, I realized there was no time to go back to my Sock Hop socks because of another impending birthday - this time for my physical therapist, Holly.
For the past 4 months, Holly has kneaded, messaged and (at times) cajoled my muscles and nerves into working like they're supposed to. If not for her, I wouldn't be knitting now. That is why I thought it fitting to make something that would warm the hands of my PT angel!
Specs:
Less than 1.5 balls of Rowan Wool Cotton in shade 941 (Clear)
Addi size 3 US, 2-circular method
Pattern, "
April May
" courtesy of Cider Moon
Modifications? None, with the exception of the length. Mine are about 1.5 inches shorter.
Labels: FO