They're Here!
A
s soon as I saw the February 15, 2007
Knitters Review article
on
Skacel's
Addi Turbo Lace needles, I pounced on the one store mentioned in the review expected to have them! Trouble is, so did dozens of other knitters eager to get their hands on the goods. I say "trouble" because I believe that while
Yarn Lady
understood the pent-up demand, Skacel might still have been a bit tentative.
I called the shop shortly after it opened and was told that at least 40 other people had already left messages. I was also told that the store would initially receive only 20 pairs of needles in each of the available sizes (2.5 - 4.0 mm / 1 - 6 US). This meant I would have to wait for the circulars I ordered. Not a bad thing when it turns out the wait was worth it.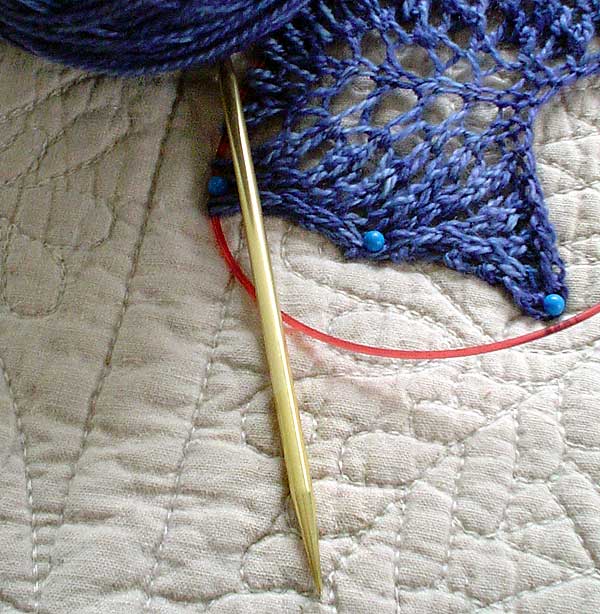 There were a few things I noted as I knit this lace swatch. For one, the cable is a bit thinner and more pliable than the normal Addi circular. The cable joins are seamless and did not snag the fingering weight yarn. There is a bit of grab to the brass unlike their slick nickel siblings, making the lightweight stitches easier to manage and less prone to slipping off the needles.
Now, the taper and the points? That's the deal-breaker, isn't it. I compared two size 4 US Addi circulars and the 3 millimeter difference in the taper length will definitely be more to the liking of lace knitters – a bit more wind-up before the pitch. And the tips? You'd be hard pressed to call these "stumpos" as the tip is rounded just enough to avoid puncture wounds, but just right for those "k3tog through the back loop" gymnastics.
I really like these needles, even though one of the two I ordered had a small defect on the tip. Since they're Addis, the shop will replace them without question. Although there may still be a few kinks in the early production run, I believe Addi Turbo Lace circulars should be on every sock and lace knitters wish list. I can't wait until they're more widely available.
(Edited to add)
I bought sizes 4 and 6US in the 32" length. I'll probably custom order 20" lengths in smaller sizes at some point for sock duty.
(Edited again)
Just found the needles available online at
Angelika's
.