Wild Things!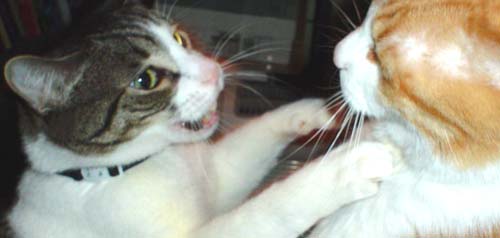 W
ild thing...you make my heart sing.
You make everything. Groovy.
C'mon, c'mon, wild thing.
- The Troggs, 1966
You know this is really about the now finished and fabulous Wild Thing socks knit from Teyani's
Sock Hop yarn
. I just couldn't resist kicking off this post with a picture of the boys in an unusual tête-à-tête. Anyway, on to the
long-awaited socks:

Start:
2/7/2007
Finish:
3/19/2007
Materials:
3+ ounces of Sock Hop yarn in the Wild Thing colorway
Needles:
Addi size 2 US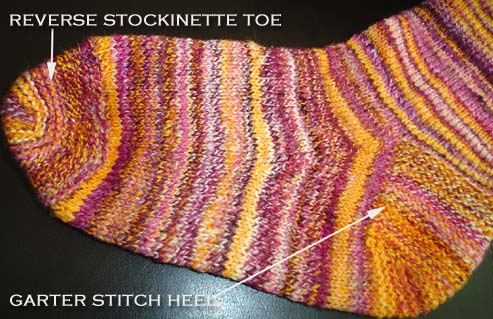 The pattern is just your basic top-down sock recipe for fingering weight yarn. Cast on 64 stitches, knit 1.5 inches of k3, p1 ribbing and stockinette leg. For these socks, I did a garter stitch heel and reverse stockinette toe – something that adds a bit of textural interest while still showcasing the beautiful yarn.
I know this bum wing makes the production line a lot slower now but I can explain the nearly 6-week gap from start to finish in two words:
birthday
gifts
. OK. Maybe
three
or
four
. In any case, they're done and I love them. They'll join the others in the dresser drawer, destined to be among my favorite (and well-worn) pair of comfort socks.