Beautiful friends, tasty grub and fine yarn.
I broke my Monday routine and did not go to physical therapy, choosing instead to meet up with three knitting buds and one knitting bud mum. Tehemina (KnitDDS) picked me up around lunchtime and we headed to that mecca of Indian goodness in Chicago, Devon Avenue.
On the weekends, Devon is a driver's nightmare, with clogged traffic, jaywalkers and signals-optional motorists aplenty. Midday Monday? Another story altogether and frankly the best time to shop for a sari, pick up some dal (lentils), or just soak in the scented atmosphere of this multi-ethnic 'hood. Today, we were here for the food.
After a brief wait, we were joined by Alyssa (Knit Mongrel), Suni (Knit Masala) and T's mom (a machine knitter sans blog). T is 6 weeks away from giving birth to her first child, so I tried to come up with a fitting gift for a knitting mother-to-be.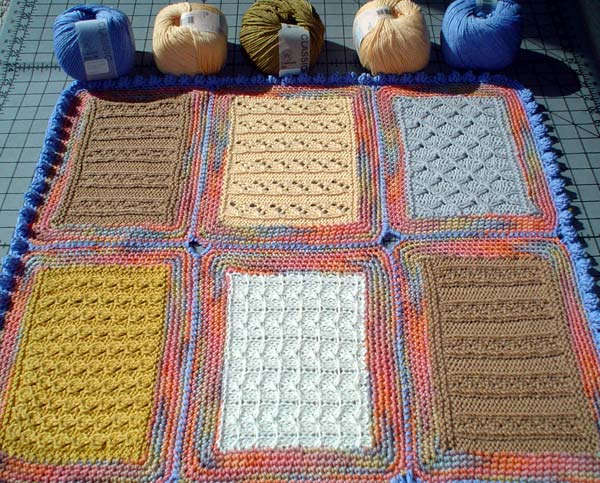 I call it "Blanket Seeds": eight balls of RYC Cashsoft and a quilt-like center starter blanket. You might recognize the 6 panels of the blanket as the swatches I did for the Walker Treasury Project (Moss Stitch Rib, Waterfall, Flying Wings, Traveling Rib, Puff Mock Cable).
I single crocheted each swatch in Claudia Handpaint's "Blue Terracotta", then whip stitched each together with the blue Cashsoft. Lastly, I added a puff stitch border to the entire piece.
This 6-sectioned center panel is large enough to be used as a car seat cover initially, with the plan for knitting Mom to add to it as the baby grows.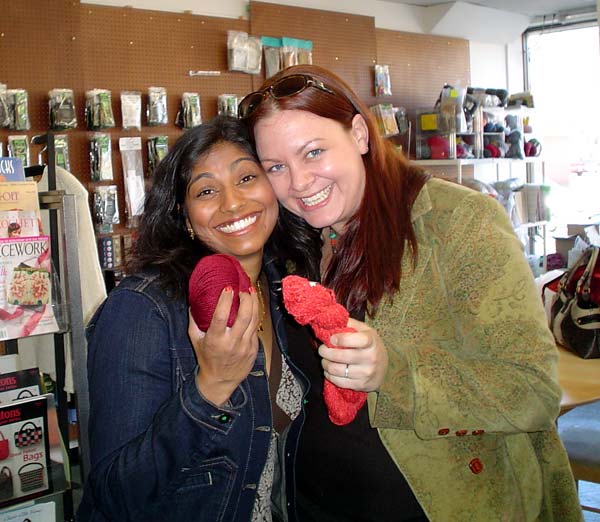 After inhaling some dee-lish southern Indian food, Alyssa, Suni and I head into the danger zone, also known as a local yarn store.
Behold stitchers in their natural habitat. See the excitement on their faces as they cuddle up to their fibery kill.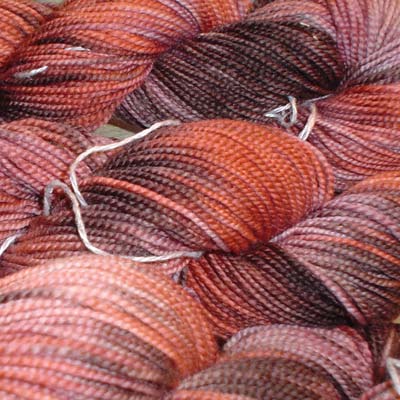 And what did I buy? Three skeins of custom dyed Louet Gems (in "Browns") right off of the display for their new DIY dye kit. I saw the yarn, went looking for it elsewhere in the store and was told that it was one-of-a-kind.
"Will you sell it to me?"
Oh yes, my friends. It was a good day.