"You need to take it easy for the next 48 to 72 hours. No physical exertion for that arm."
Thus spoke the latest orthopedic specialist after he shot my right shoulder full of a strong painkiller and anti-inflammatory drug. Did I listen? Nope. Especially after a dear friend sent my kitty boys some new food, accompanied by two balls of Diakeito Diamusee Fine*. After all, I needed the perfect yarn to go with the perfect lace needles to start my first official shawl, the pattern for which I'd purchased the day before.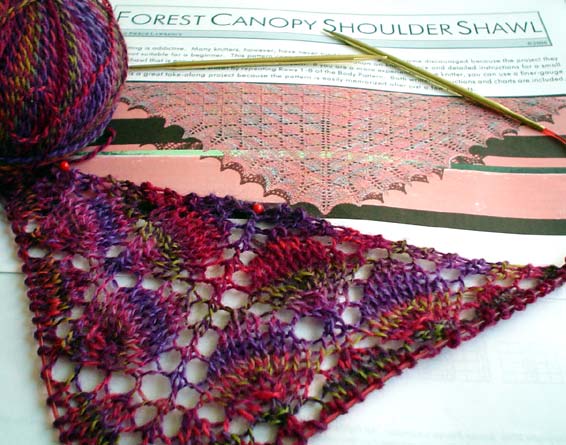 Susan Pierce Lawrence's "

Forest Canopy Shoulder Shawl

"

This is so easy, even I can do it. Good thing too because I've got a raft of increasingly more complex shawl and wrap patterns waiting in the wings. I just have to get one completed lace project under my belt (something larger than a pair of socks) to feel competent enough to go forth and conquer the rest of the diaphanous pretties.
Oh, and the arm thing is more complicated than any of us first thought, with no clear choices and equally uncertain outcomes. One of these days, I'll look back on this and smile triumphantly. I'm sure of it.
*Edited to add info about Diakeito Diamusee Fine yarn:
Content: 100% Wool
Size: 40g/239 yards
Gauge: 30-32 sts/4″ using needle #2US (I'm using size 6 for this shawl)
Care: hand wash, dry flat
Although it is made in Japan like its cousin Noro, Diakeito is much softer than Kureyon or Silk Garden. It also appears to also have less vegetable matter and (so far) no knots!