Flying Footlets!
W
hat do you get when you mix a one skein of cashmere-soft yarn with the need for instant gratification? Flying Footlets!
Flying Wings pattern
is featured on the cuff and they virtually fly off your needles. It would have gone faster had I not stopped to pet the sock as it grew out of
Cider Moon's
Glacier yarn in the "June Carter" colorway. "Soft" seems inadequate to describe this yarn. Here are some of my favorite alternatives from Roget's New Millennium™ Thesaurus, First Edition:
comfy, cottony, cozy, creamy, cushiony, cushy, delicate, downy, ductile, feathery, fine, fleecy, fluffy, satiny, silken, silky, smooth, spongy, squashy, squishy, supple, velvety, yielding
Yes,
Glacier
is
all that! Since I'd purchased only one skein, I decided to maximize its sock potential with these footlets.
Details
First, I split the 110 gram hank into two equal portions using my handy
iScale
. I had already worked out a method for adapting the 6-stitch Flying Wings pattern repeat for knitting in the round. This was necessary because the Barbara Walker Treasury primarily chronicles flat knitting.
With two size 4 US Addis at the ready, I did a long-tail cast on of
60 - L
(
48 - M
) stitches, distributing on the two circulars as follows:
27 /33
(
21/27
)
Place marker to indicate beginning of round, then begin the cuff detail: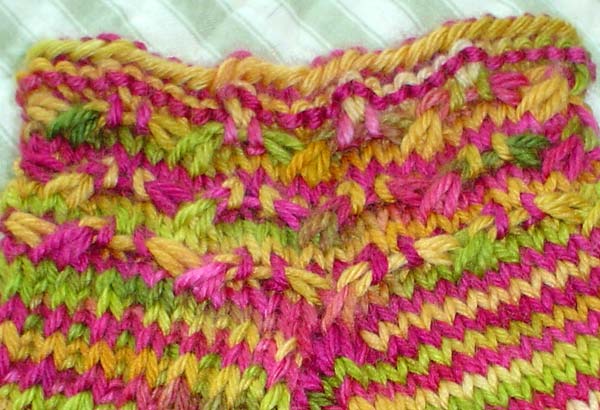 Round 1:
K
(nit)
Round 2:
P
(url)
Round 3 - 4:
K
Round 5:
Skip first 2 stitches and knit 3rd stitch on left-hand needle. Next, knit 1st and 2nd stitches, then slip all 3 from left needle. Slip 4th stitch to dpn or cable needle, holding the stitch in front of your work; knit stitches 5 and 6, then knit stitch 4 from the dpn. Repeat to end of round.
Round 6:
K
5, *skip 1st stitch and k 2nd stitch on left-hand needle. Knit the skipped stitch and slip both off left needle;
K
4. * Repeat * to * until last stitch of round, then
K
1.
Repeat Rounds 3- 6 three times, then knit 2 additional rounds to set up for heel.
Redistribute stitches so that each needle holds half of the total number of cast on stitches. Begin your heel of choice. I used a standard slip stitch heel flap and gusset, knitting the rest of the footlet in stockinette and capping it with a (mostly) rounded toe decrease. Easy, peasy!
What of Forest Canopy?
I have not abandoned this fun and easy lace project. Nay, verily I say unto you that I'm about one-third of the way done with the shawl - that is, if I were planning to knit it to pattern. Since I have approximately 450 yards of Diaketo Diamusee Fine (color 116) to work with, I plan on enlarging the shawl from 52" x 23" to 70" x 35" or until I have just enough yarn to bind off or my shoulder gives out. Either one.
I would've done a progress shot, but as I was stretching out the lace blob, I pulled some of the stitches off the needle (grrr!). I opted for fixing, rather than photographing, the lace. I'm sure you understand.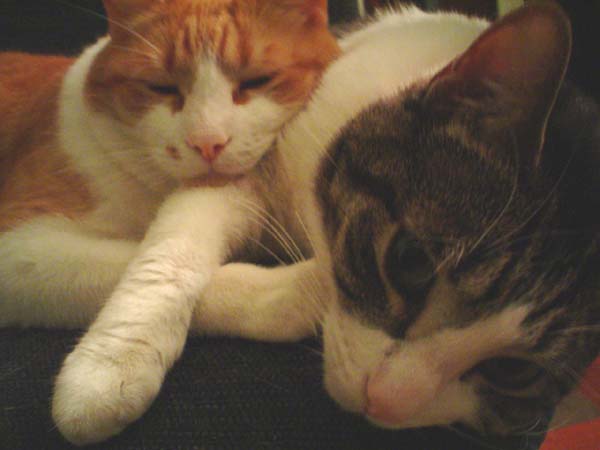 Last, But Not Least
I give you the gratuitous sleeping kitties shot. Rocky opened his eyes long enough to give me that "get outta my face with that thing" look.
OK, boys. Over and out.