Pas de Baa Pour Moi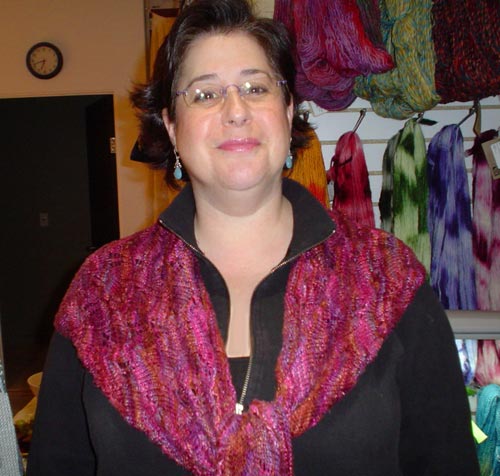 Or so wrote
Amy Singer
in my copy of her new book, "
No Sheep For You
". A designer and author, Ms. Singer may be best known for her work at the helm of
Knitty
, an online publication featuring scads of fantastic free patterns and a wealth of information on the fine points of knitting and finishing techniques. Last night, she brought her trunk show to
Loopy Yarns
in downtown Chicago.
"No Sheep For You" is chock full of patterns for wearables knit from non-wool fibers such as bamboo, hemp, linen, cotton and silk. I admit to being a bit surprised at the variety and beauty of the designs. In this photo, Amy is wearing Tuscany, a lace shawl made from
Handmaiden
Silken. This will quite likely be the first thing I try my hand at, especially since I happen to have several skeins of
SeaSilk
in the house!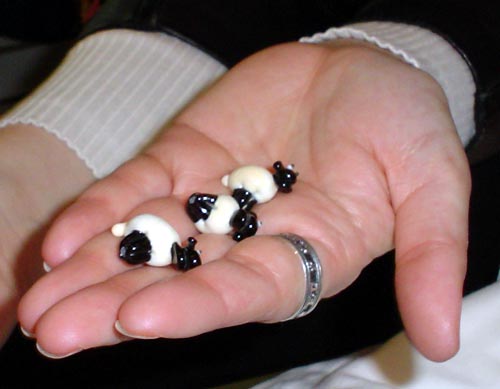 She shoots sheep
Although this book signing featured "No Sheep For You," ironically a few of the little lambs did show up - in the form of the cutest little handmade glass beads! Nancy Hunt puts torch to glass to produce these one-of-a-kind beads. They were so delightful that I had to get a shot of their little black and cream selves. Nancy has given me permission to show them here, as well as to let you know that she can be reached at TorchWench AT gmail DOT com if you'd like to herd a few for yourself.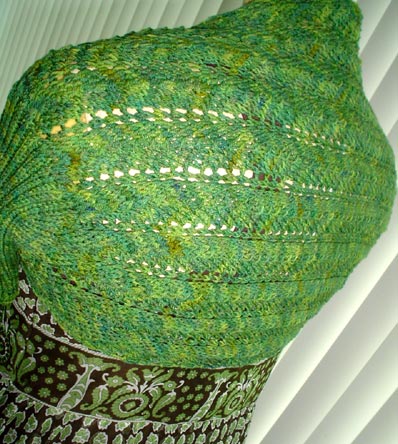 A Taste of Mia
Why don't I wrap up this post with news of the latest incarnation of the Mia shrug. Yes, as you see here, I've completed the body of the shrug. Now it's time to turn my attention to the finishing details which, as of this writing, are still up in the air. Beads or no beads? Crochet or knit? Scallops, points or nothing at all? So many choices and so little time as I am hoping to have this complete by Easter so my mom can take a picture of me wearing the ensemble.
As I recall, a few of you decided pictures were in order. Let's see what I can do.